Don Dixon is an idealist, and Ms. Paige is a pragmatist. There we go: personalities of the 2017 Reggae Fest captured in two separate adjectives. Oh Wait: whaddya mean, people don't work that way?
"'Waiting in Vain (For You)' was the last Reggae recording that I have put out," Ms. Paige recounts, "that was released last year, I think, in June or July, and it recently hit #1 on the Canadian Reggae charts, retiring as a Canadian Top Hit . . . In fact, I had taken a little break for about 18 months  from music in its entirety, and the 2 Reggae songs I've come out with since the break have both gone to #1 on that chart, so it's blown my mind!"

After this cheery announcement, Ms. Paige tells us a brief history of her musical heritage, which is professionally 3 generations deep, but she's really trying to step out on her own path in the last decade, as the R&B performances of her youth have taken her to a point of departure: she wants more!

"Given that we are from Trinidad, in 2004 I started fusing R&B with Soca, which is the music of Trinidad. I had an interesting career in Soca, and 2015 is when I started in Reggae as well.

"Since 2004 I've released 35 or 36 singles in Soca and Reggae, (received several Caribbean and Canadian awards), and took a little break in 2013 (and) came back in 2015 with Reggae and it has just been so lovely! Because I haven't been as aggressive as I was when I was younger, but the love that I have received in the past 2 years has been incredible!"

Paige mentions here that, as an example of her own growth as an independent artist, while she may have chafed at always being called "Debbie's daughter" in her beginnings (because of the success of her mother's music career), now Debbie is called "Paige's mom" in deference to Paige's own successes here and on the islands.

"Just as Reggae is the music of Jamaica, Soca is the music of Trinidad: it's a little bit more uptempo (and)  it's more known for it's popularity during Carnival season."

Paige mentions she became known as "Toronto's Soca Princess" before her 2013 music hiatus, "but, because my family background is more in R&B and Soul, what I love about Reggae, and Lover's Rock Reggae in particular, is my ability to showcase my vocal stylings: I'm a big fan of harmonies and different vocal arrangements, and I felt a little bit limited by that in Soca. It just allows me to explore it a bit more in Reggae."
Don Dixon, frontman of Aktivate, has a much more local approach to his Reggae: "I just played Taste of Calgary, . . . We played the past Thursday from 2 till 4 at Eau Claire Market. They set up a stage and beer garden, and  all kinds of food."
And Aktivate, too! But Don admits he hasn't got any recorded music available to purchase online, despite playing for a couple of hours just last week. We ask whose music he's playing then?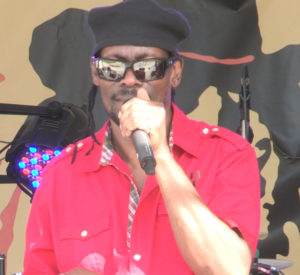 "That's all mine: I don't play covers at all. I could play for many hours, (but haven't produced finished albums because) financially, it requires a bit of dollars to be comparable or competitive on the same level as the recordings that have been released  . . . People are used to this digital world where everything is clean and pristine, and they just want to listen to that .

"My most recent song is 'If You Were My girl', (and) 'When Jah Smiles On You' is from a few years back, and I put a version of that particular song on iTunes."
We discuss the challenges and rewards of setting such high standards, and the goal to which we both aim: excellence. Don mentions that he, like Paige, has also gotten off and back on the music circuit in the last few years (this is his 4th ReggaeFest), and that his grassroots base still exists here: Aktivate has opened for Vanilla Ice, Shaggy and The Wailers when they've come through Calgary, so the juice is still flowing. MUSICAlive! empathizes with the high standards Don maintains for his songwriting and production goals, but we suggest that it makes life very hard.

"You can define 'hard' in many ways: also there's a thing called 'live with oneself', and if you're gonna live with yourself, and aim at your best standard that you're gonna set for you, then that's okay for me. And when I go to bed I can sleep . . . that's how I live; it may take me to my grave, in that way, but that's just me.

"Usually, as soon as someone starts saying (that I should compromise) I say 'Do you wanna put the money up to pay for it?' and that's the end of the conversation. (he laughs)

"For me and the music, I love what I do, and I'm gonna do it until my Maker takes me, or wherever I end up."

Don mentions being musically compared over the years to Eddy Grant, Peter Tosh, Burning Spear and Steel Pulse, but he ends up categorizing his music currently as Love Rock/Rock Steady Reggae, "because I'm not a hardcore Reggae dude.
I just write because I like it, and I spend many hours at it because it keeps me happy. And when I go out and play, and watch people react to what I create, that they've never heard before in their life, that is a bonus! (Like the thrill of) people singing the choruses to my songs: they've heard it once, the second time I come and they're singing along!"
Both Ms. Paige and Aktivate are playing the Friday ReggaeFest at Shaw Millenium Park: check their site for more information.