"And what's their name?"
"Random Task?"
"Collective, yes."
"Interesting."
"It's a group of kids that've REALLY taken the initiative in the all-ages scene in this town. They've put a lot in: They programmed the whole Sled Island all-ages portion last year. they did most of that."
"Really?!"
Camie Leard of Cantos Music Foundation was telling me about some of the other things going on with that association, and this really interesting facet appeared. I know, I know, I just wrote about the Cantos people a couple of weeks ago, but I felt this information needed to be put out right now to promote some up-and-comers.
"They're actually playing at a decent stage at South by Southwest this year (the gigantic 'Music and Film Interactive' Austin, TX event), and they recently signed with a pretty big label,"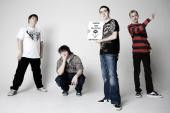 Cantos was a venue for the local alternative scene's Sled Island (Music & Arts Festival) in 2010, and they're particularly suited for all-ages events, for which there aren't many places a teenager can go in Calgary.
"One of the interesting things about our venue," Camie enthuses, "is that we don't have a liquor license; we're not a bar. Which makes us accessible for underage people. Like our Blues Jam, it's a really unique opportunity for musicians, parents and kids who play, because where else are youth going to get the chance to a) hear live music and b) to actually PLAY live music with experienced musicians?
"Most of the live music in this city occurs in bars, so it's tough for those kids to get performance experience. Greg Curtis of Tooth Blackener is a good friend of (Cantos), and he brought in Brasstonaut, which is an all-ages band from Vancouver."
"Brought them here (to Cantos)?"
"Yes. All-ages space, like at The New Black, is pretty limited as I was saying.. . . . One was closed down last year for licensing issues and it created a whole hullabaloo about the way these venues were licensed and/or zoned."
Random Task Collective, self-described as "nerdy rock-funk," also claims to favour "finesse over brute power." What does that mean exactly?
Personally, I'm never convinced by studio recordings to believe a band's claims about themselves: it's their live performance acumen that sets my blood singing, so you'll have to experience their upcoming return to the Cantos Music Foundation Performance Space to find out. Their MySpace page showcases an interesting variety of songs, so there's a good chance that. . . .
Well, there's a good chance.
Collective Concerts presents…Girls Girls Girls! Show with Claire Elizabeth, Rachael Schroeder, Float Like Stones and Random Task Collective.
Doors at 1:30, Show at 2:00
$10/online or at the door.
And where else can you see a word like 'hullaballoo" online?