When MUSICAlive! first hears about the 2019 Femm Wave Festival, it's only a few days away! But it sounds too cool to miss, and fortunately both our photographer and the Board Member manning the front desk are willing to help us put it together for our fearless readers: we made it to Calgary's Feminist Music & Arts Festival!
Though they only started from scratch in 2015, this year shows Femme Wave to have a clearly defined sense of themselves as a music event. Their website describes their Values as:
""creating positive, safe, supportive space/s and opportunity for women and non-binary artists; applying a punk rock, feminist lens to all arts programming; championing the creativity of women and people with non-binary identities; providing opportunities for, and inclusive access to, diverse stories, experiences and perspectives; educating and being educated about feminist intersectional issues; facilitating feminist fun; ultimately being badass feminist bitches!"
Yep. At least on Friday night at the #1 Legion they did. The venue may be 97 years old, but the energy in its walls is
fresh and cooking: here's 2 very different approaches to musical activism!
Hue Li is the first act we manage to catch on Friday night, taking over the ground floor stage at the Legion, as fearlessly as any young creative woman in a 100 year old military clubhouse can. MUSICAlive! asks her if she thinks of her music more as Rap or Hip-Hop?
"The way I see it, rapping is the "speaking rhythmically over a beat" part of it, but Hip-Hop as a genre is an all-encompassing kind of art movement that involves dance, graffiti, the music, knowledge: all of these elements come together to make Hip-Hop as an art form. And the singing and the general vibe of the genre tends to fit into Hip-Hop as a larger category.
"So it is both Rap music and Hip-Hop."
We mention that the evening's program describes her as a "Montreal-based hip-hop experimenter", and we wonder if she calls herself that.
"I don't think I wrote that bio. (She laughs) Yes because I think I try to push the boundaries of the types of identities and experiences that have traditionally been represented in Hip-Hop and Rap music. No in that I don't think I'm doing anything sonically that is SO left field that it's something that no-one's ever heard before. I actually am really referential in the way that I make my music, and if there is anything that strikes people as particularly unique about what I do, it's the way that I tend to blend those references.
"I think Hip-Hop is such an expansive genre already, in that there has already been so many, an endless variety of styles that have emerged in the genre, in a relatively short amount of time: it only started in the late 1970's! It hasn't existed forever, and yet there's already an innumerable amount of approaches in the way that this music is made.
"It's always been a pastiche sort of genre, in that from the very early days there was a big practice of sampling, taking existing music (and) putting it together with other existing musics, and creating something new: a very collage-type of approach. So it's always been a genre that pulls from a lot of different sources.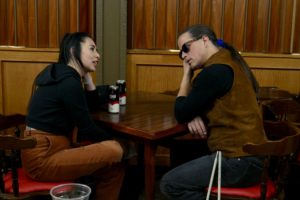 "It's always been about taking things that we have a sense of familiarity about, and flipping it, presenting it in a way that feels totally unexpected."
One thing is for certain: Hua Li has a great laugh: we know this because she has a load of fun both during her performance and this interview, which were much more profane and provocative than this little section indicates! However, we must finally ask her for a closing thought.
"I feel like on this record that I finally got to a place where I hone my own sound, and I feel very blessed to be in this place where I can present something that's wholly unique, and resonates with me on a totally profound level."
Later on the same stage, but with the tight sound of a rock trio filling the room, the guitar teacher Paige Drobot demonstrates her amplified gymnastics. When we join her outside of the Legion for a smoke, right after her set, she is thrumming like a racehorse after a win. Which is a pretty accurate statement! We talk about her progression through bands and recordings towards this particular, very well-honed, rock and roll sound.
"For the last 8 years I've been playing in a progressive rock band, and I play a lot of lead guitar: I do a lot of session work and play lead guitar for other people's songs all the time. I wrote for the prog-rock band too, but (her EP) is the first time under my own name . . . It's still me: I'm not trying to write a particular type of song (to fit a musical style."
MUSICAlive! notes that we've only heard tracks from her 4-song EP, and it didn't seem to sound like the rock out that the drummer, bassist and her had just kicked out.
"I did everything myself in the studio (Paige told us earlier that she played all the instruments on her debut album)
and when you put other people on it it's a different interpretation. also . . . this is newer material."
We discuss how she sounds so much better live than in the studio.
"100 % adrenaline!" she laughs. "I always play better when there's people: I don't know why. I get off on it! (more laughter from us)
"I'm going to record this (new material from the set) soon . . . In the last 6 months I wrote this stuff, and these guys learned it real quick for me . . . The bass player and the drummer are twins, so they're on that frequency: they've been playing together since birth!"
MUSICAlive! notes that, not only did she play all the instruments on her EP, but also wrote all the songs that were played tonight, and we ask if this is the normal arch of her creativity?
"People play my music, or I play their music: very little collaborative writing in the past 6 or 8 years . . . When I write a song, it's all a stream-of-consciousness kind of thing, you know? so they just kind of come out, and it's quick and painless and they learn it; they have good ears!"
Final thoughts?
"I don't play anything I don't mean: lyrically; every note on the guitar, I feel it; it's just emotion. It takes a lot out of me!"
Paige might be amused to know that her last statement is pretty obvious onstage, and from the fans who keep stopping to blurt enthusiastic accolades while we talk.
We'll definitely be at Femme Wave next year!