Listen to an excerpt of this interview on Apple Podcasts
Kurt Loewen has been to Calgary before: in fact, his parents still live here, as evidenced by them sitting just behind us when he and other locals performed at an outdoor concert in Ramsay in mid-September. It was a very folky, friendly, family event with other young adults and some parents and acquaintances wandering through the shared 2-yard space.

It was like a little Folk Festival, and Kurt capped the trio of performers with his Taylor guitar and some cups of hot tea: as he mentioned, he KNEW it was Alberta because it was warm enough to hang outside but too cold for happy guitar playing hands. MUSICAlive! starts out by asking Kurt about the instrument he's playing at his solo shows.
"It's special because the band I played with for about 14 years (The Tequila Mockingbird Orchestra) bought it for me for my birthday maybe about 10-12 years ago. So it's been a workhorse: the best guitar I've ever had because it really does the job; a Taylor (six-string) with a solid spruce top. Which, I've learned recently, a lot of the devastating environmental old-growth forest clearing practices. . . end up as guitar tops! THAT was weird. (laughs)"
Just sayin'.
So we get through the grinding of coffee, my technical difficulties, and his multiple door answerings, getting all settled in for a comfy chat. Very much in line with the ambiance of the event where Kurt and I met.
"I've been trying to enjoy myself in the area of watching and presenting (music) on the Internet for the last year and a half, but it doesn't do it for me at all: on both sides; it really doesn't! Even with the great performances I've seen and the festivals I've taken part in . . . the feeling's not there. And oftentimes not just the feeling: I don't want to say quality, because sometimes the quality of the production can be good, but the Internet sucks or something! There's something about it coming through clear, and it's just lost in a big way."
We reference our previous interview with Kathleen van Mourik, classical pianist and teacher, who said much the same thing about surviving the musical detachment. We move from there, through his Calgary family, and the friends who connected him to a Ramsay performance, and here we are!
"I thought what they did was really super beautiful, with the space, and the amount of people: it felt cozy, but not crowded; not empty. It was honestly ideal for the feeling in Alberta right now. (And) I didn't know any of the other acts that were playing that night, but I was really pleased with what I heard. Like you said, it was a good fit. Each was very different in its own way, (the) styles and instruments were different; ranges and vocals were different. I really enjoyed what I heard!"
We ask about what Kurt sardonically calls his "bummer music", because of its low-key, full of open spaces style. We note that his most recent release, Becker Lake, seems more nostalgic with hints of pathos, than comes across in his performance in mid-September.
"I think when I play by myself (live) that it is representative of the songs. The album is a production: on that record, I would say that there is no song that is just voice and acoustic guitar.Even if it's subtle . . . it's just to create a little bit of depth, I like that kind of stuff when I'm listening to records. Really really subtle stuff you maybe don't hear the first 10 times, but you do hear the next 10 times.
"But because there is this element of storytelling that goes along with my live performance, at least when I play by myself, you get a different sense of what the songs are and where they come from. Because . . . when I'm live I have the chance to tell you stories about the song, whereas if you're just listening to an LP length recording, you just start putting on the thing and having a listen.
"That's how it is for me if I'm listening to an album, and I listen to it in a certain way, and feel like I've really connected to it: that I might think it's about one topic or another , and then you find out because there's some reading or an interview with the artist that it's not about that at all!
"Talking more broadly about what live music is, and why it's so special, it's because all of that fallibility of the human is present, and all those opportunities for things to be different. And to recreate the thing in a live way is for me why the set is never the same; the stories I'll tell are maybe the same . . . I think it's nice to talk about the songs, to explain that 'Yes these might be from a place of a hard time, but they're sort of reflections because I'm able to process that stuff.' I'm here and I'm better!"
MUSICAlive! relates a recently heard story about the folk influencer John Prine, and how he wrote one of his songs while travelling to one of his first regular gigs: has Mr. Loewen enjoyed this kind of inspiration? He says it has happened this year, but then notes that the last (Covid-19) year and a half represents 1 year (as many others have said, or that it's just missing entirely).
"I had this 1 year anniversary with my girlfriend, and we were out at this place out in Sooke on Vancouver Island, and we had a beautiful day down at the Sooke potholes, and had a great meal.Like most vacations I bring my guitar because a) it's soothing, and b) inspiration's going to strike and I've gotta work . . . and I wrote this song pretty much front to back. It's called Steady Hart, and is as yet unreleased.
"and maybe a day later after we got back (my friend) had this Instagram Live . . .'What have you been working on?' comes up in our conversation about all things music, and I said, 'This is something I wrote a day ago.' I even had to pull the lyrics out because it was that brand new. and I shared it with her.
"Honestly, it's not like there was thousands of people watching, but it still made me nervous as hell because to play something like that when it's still so close to the heart, and new."
MUSICAlive! asks Kurt if he has any anecdotes he wants to share as the storyteller he is, more or less musically-centred (check out his live show and you'll understand such a request).
"Up until about the time I was 14, I was convinced I was going to be a professional hockey player: that was my whole life. I was playing at the highest level of hockey at that age. And honestly I discovered all at the same time skateboarding, weed and music! (we both laugh uproariously) And I was like 'Man! Life is Way more interesting than hockey!' I still LOVE sports: I still love playing sports and being out in nature.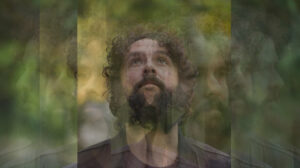 "I'm not going to try and judge every hockey player in the world, but we weren't having interesting conversations about the world.We were having conversations about being a tough guy, and never showing your weakness . . . I don't know. Music, and skateboarding. and honestly weed. (laughs again) It changed my mind: it made me softer to the world at a young age. Maybe I wish in some ways that I'd gone to university on a hockey scholarship? that might have been cool: but that didn't happen! I played music all through my 20s and I have no regrets. I've travelled the world and had a really beautiful life. and met all kinds of really interesting people. Including yourself!"
Well, we can't argue with THAT!