Steven Taetz is wandering through the streets of Toronto while we talk, going from one place to another as songwriters are inclined to do anyway: moving from one inspirational situation to another to meet the needs of their musical craft. In Steven's case, having done time in the electronic dance and country/roots genres, we ask him what he would call the music he's bringing to Calgary's venerable King Eddy this week?
"It's got a few different labels that might fit: I'm still . . .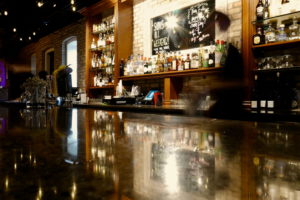 trying to find the labels that make sense, in terms of how to tell the audience what to expect to hear. This
current album (Drink You In) falls into 'Jazz' on iTunes. If you talk to a jazz aficionado, they would say it's a 'swing' album, or "traditional pop"; I've also heard 'vintage pop'; some might call it Adult Contemporary or . . ."
Steven runs out of labels, and MUSICAlive! is confused by what the heck "vintage pop" is, but we discuss the vagaries of a popular music from between the 1920s and the 1960s. Part of that sound is a brilliant use of different instruments (trumpet, saxophone, piano and even a vibraphone) which feeds directly into the "jazz" feel and sound of this album. We ask if this was his doing as singer/songwriter?
I was working with a great producer . . . and he and I were trying to figure out at first what would sound best in any kind of situation we may be recording, but might also be easily replicated when we had a live show."
So the intent is to reproduce the sound of the album onstage, with a few less personnel travelling the country. Fortunately for Steven, his producer plays clarinet (like he did on the recording) and "anything else he wants to," Steven claims with a laugh. As the one writing and singing all of the new songs, and singing the classic ones, Steven's focussing on his vocal contribution, and the album's award-winning pianist is among the others joining him in Calgary.
"This album has half originals and half covers: I was trying to find topics that would relate to the jazz kind of lifestyle, but also, with some of the songs I wanted to highlight queer writers, like Steven Sondheim and Lawrence Hart: those kinds of composers that are well-known . . . I thought I'd pick some standards that are a little more rare, but are equally deserving to be recorded again."
Despite this talk of standards, we first delve into a delicate treasure ("We Never Kissed Goodbye") near the end of the album, which uses a chime-like instrument called a "celeste", sounding like opening up a musicbox and there's someone singing inside.
"I'm a really big fan of Chet Baker, and the album called 'Chet Baker Sings": the trumpet player who, as he was recording albums, became equally well-know for being a vocalist. (That) album has such a beautiful ensemble that he's playing with. And then on one of the songs, just out of nowhere, there's this celeste. Yes, it sounds very innocent and dreamy; I loved it!
"So the song on the album is one we wrote, but it was inspired by the instrumentation that Chet uses."
In contrast to this Chet-inspired dreamland, Mr. Taetz becomes tongue-in-cheek several times on the album, and we ask if that was the intention beforehand, or if it just came along with the music?
"I think with this type of music, and Adult Contemporary in general, that there's a tendency to take oneself too seriously. I find I don't have a huge outgoing personality: so with an audience, performing live, it's an easier way to win folks over and make them feel comfortable enough to enjoy themselves, by adding in some humour. And I wanted to write that into the material: to make it a little lighthearted, and tell stories that people find fun.
"I think in a live performance there's relationship building that's happening right from the beginning, and being able to have material either to make them feel comfortable, or have a good time (is important). They can stream it at home and have it sound perfect, or they can come and have an experience that's unique.
MUSICAlive! asks Steven: With all the career changes, howzitgoin?
"As a kid my Mom was always singing showtunes and old standards to us, so this is just that next step towards what I was raised on.And which matches what I'd like to sound like; to match my vocal quality.I don't have a huge belter voice that would fit with pop/rock, That softer, crooner approach to singing seems better suited for me."
"I'm super excited to come back to Lacombe (where Steven grew up) because I haven't performed there in 20 years, and it's a nice homecoming to come back and play for my music professor.
"And the last song we like to play on each of our shows is a Vera Lynn tune called "We'll Meet Again", and my grandmother, it's one of her favourite songs! So I'm glad to go and play that for her."
Join him and the band:
Apr 05, Edmonton AB, CAFE BLACKBIRD;
Apr 06 SASKATOON SK, The Bassment;
Apr 10 Lacombe AB, Lacombe Memorial Centre (COUNTY ROOM);
Apr 11 Calgary AB, The King Eddy