interview by Carey Rutherford, article by Paul Verhaegh
Mick Flannery's Facebook page says that he bridges the gap between folk and blues rock. Well, he doesn't fit in a box, that's for sure. Still working as a stone mason, he's touring all over the world as an artist: Canada this summer; Ireland in September; New Zealand and Australia later this year.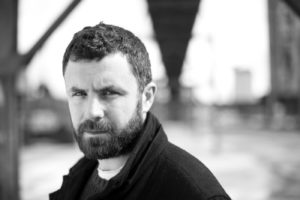 Mick is from Cork, Ireland. His website tells you that he grew up listening to Tom Waits, Bob Dylan, Joni Mitchell, Van Morrison, and Jim Croce. At the Calgary folk fest he played piano, and a Suzuki acoustic guitar which once belonged to his mother. But where is his focus?
"I play music every day as a kind of therapy. I try to write stuff and use both (the piano and guitar). I have a keyboard in the kitchen and two guitars lying around in the living room.
"They give you different things: the piano offers you base plus melody options, If you want to arrange things a little bit better for future thought, figuring out baseline plus possible solo or possible harmony. The guitar is better for basic rhythm: I also find the guitar easier to write something that is more upbeat. Banging away at the piano at an uptempo just doesn't sound that good. The piano will lead you easier into ballad territory and that kind of atmosphere."
MUSICAlive! wonders if we will find more piano or more guitar when we dig deeper into this.
"Starting out (in my music) there would be more piano and more ballads; going forward, more guitar. Of late, I have divorced myself from both. I tried to get away from them because I've gotten bored of myself. I started to use sound palettes that don't involve piano or guitar, just for a change."
We assume that "sound palettes" doesn't mean buying a dumpster and sitting in it, banging on the sides and composing.
"Composing is still done on the keyboard and guitar but I kind of jettison them in the studio. There still will be a kind of a base element: either a kind of synthetic or real, then rhythmical stuff. I use different kinds of keyboards, and sometimes make sounds with voices. There is a lot available to people nowadays, recording-wise."
Regarding his next album, Mick says that there's no title yet, but it will be a concept album about a person who reaches a certain level of fame, but then falls off the other side.
"It came out of one song. Maybe it is slightly autobiographical, although it is based on a feeling that is blown out of proportion for the sake of this album."
Taking a piece of your life and using it to inspire flights of fancy is a familiar approach in folk music.
"Folk is a weird moniker. The word itself just means 'people', their musings and their human condition. This new concept album is based on the nature of ambition. Is desire any good to you, or does it mess you up in the buddhist sense in the end?
"I see myself as a failed rockstar with delusions of grandeur," he says half jokingly, "a busy fool."
MUSICAlive! asks Mr. Flannery How an Irish traveller experiences North America?
"It is different than Ireland. The conversations around the history of Canada and the US are different. There is a lot more tension here. We Irish are at the white side of the spectrum: Ireland has no colonial history; we don't know how to navigate these conversations. They are alien to us."
Mick found it encouraging to see the diversity of the acts playing at the festival.
"People should be judged on their character and not on anything else. I try to be as sensitive and open minded as possible."
We agree that he muddles along like the rest of us.
"Bumping into things," he says. We laugh. Catch him as he avoids the bumps on his world tour:

Oct 11th – Sol Y Sambra, Kilorglin, Co. Kerry, Ireland
Oct 18th – De Barras, Clonakilty, Co. Cork,
Oct 26th- Lukers Live, Shannonbridge,
Oct 27th- Inkwell Theatre, Minane Bridge, Co. Cork,
Nov 16th- San Fran, Wellington, New Zealand
Nov 17th – Fox & Ferret, Christchurch,
Nov 18th – Tuning Fork, Auckland,
Nov 20th – Camelot Lounge, Sydney, Australia
Nov 21st – The Northcote Social Club, Melbourne,
Dec 5th – Coughlans, Cork, Ireland (SOLD OUT)
Dec 14th – Duncairn, Belfast, Northern Ireland
Dec 15th – Crescent Concert Hall, Drogheda, Co. Louth Ireland
Dec 16th- Coughlans, Cork, (SOLD OUT)
Dec 19th – Coughlans, Cork,
Dec 20th- Mikes The Pies, Listowel, Co Kerry
Dec 21st – Whitehorse, Ballincollig,Co Cork (SOLD OUT)
Dec 23rd – Coughlans, Cork, (SOLD OUT)
Dec 27th – INEC, Killarney, Co. Kerry
Dec 28th – Dolans, Limerick, Co. Limerick
Dec 29th – The Crown, Wexford, Co. Wexford
Dec 30th – The Roisin Dubh, Galway, Co. Galway