Listen to the full lunchtime Apple Podcast at Eating About Music 1: Vincent Ho
Vincent Ho is an Ottawa-born classical composer who currently teaches at the University of Calgary and, incidentally, has works being performed and premiered ALL OVER the place, in a happy demonstration of how it's Good to be Busy. While having lunch at The Palomino, at the heart of Calgary's downtown, MUSICAlive! congratulated him on this achievement.
"(Those are only the concerts) that I KNOW of: I just found out that there's a few more . . . Thank you very much! I'm very pleased with that: I'm not complaining at all! I just wish I could be at all of (the premieres). It's sort of like seeing your child be born but you can't be there."
The most recent works he mentions are 'Horizon Images' for cello and piano that was premiered last season in Ottawa by the Cheng² Duo, and his portion (Earthbeat) of the Calgary Philharmonic Orchestra's commission for Canada's 150th birthday, True North: Symphonic Ballet, which occurred in Calgary and online last November.
But, this level of activity demands a price: Rejuvenation: A Taoist Journey, which also premiered last year, "was a commission, Toronto Symphony Orchestra; I had (only) 1 rehearsal, 1 dress rehearsal, and 1 piano read-through . . . I understood that the parameters were very tight. I couldn't risk failure!"
Mr. Ho is comparing this with other opportunities he gets (when he can) to interact with musicians regarding the creation of the works he's composing, since they will have to "own" the work when it finally appears before an audience.
For example, Sandman's Realm, a chamber work he has been workshopping with the Standing Wave Ensemble, will premiere January 18th, as Part of Vancouver Symphony Orchestra's New Music Festival.
"(Standing Wave has) been involved in the creative process . . . I always find with the projects I get, there are those that are growth opportunities, and at the other end of the spectrum there are career opportunities. And then a lot of time the project can be a bit of both. (This project) allowed me to try things out, risk failure, and just, like, throw caution to the wind. That was important to me, as a creative artist."
The Ensemble workshopped it with Vincent, premiered it last year (add another to the pile), and he modified it for them once again for the performance in Vancouver this month.
"I just thought 'I'd love to be there with you guys,' because there a lot of things that were trial and error, and I'd like to hear how it works. Most especially working hand in hand with the performers to get their feedback, and see how it all works out."
Fortunately, busy Vincent won't have to miss the B.C. premiere, even though the Red Deer Symphony Orchestra performance of his Rejuvenation work happens only 2 days later at Red Deer College. He wants to attend and respect the presence of Wu Man, an internationally renowned pipa player from China: the RDSO's conductor, Claude Lepalme, worked hard to facilitate her visit.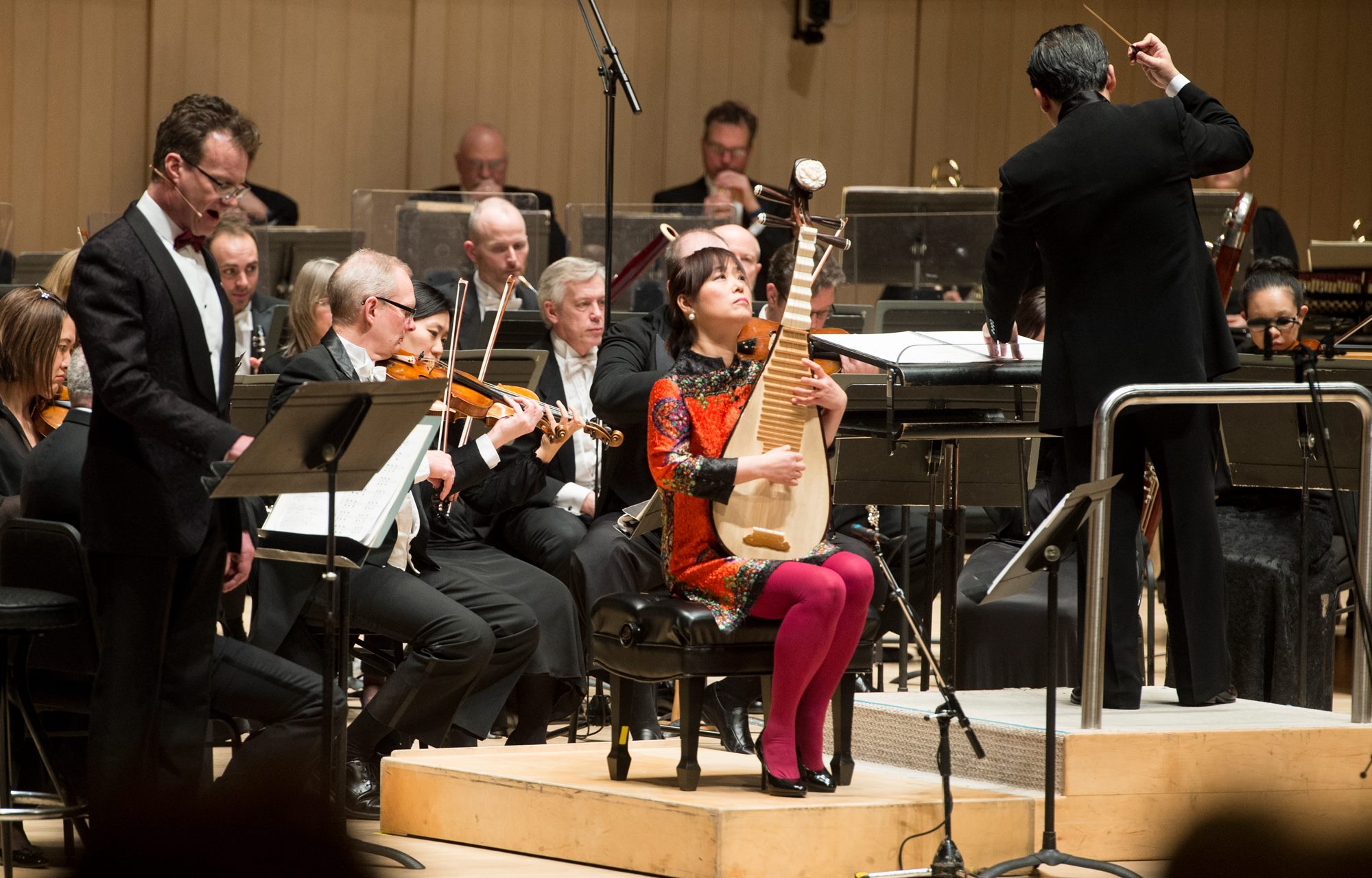 In recognition of the respect he has for Wu Man as a performer, and in keeping with a long-held Asian music tradition, Vincent gives her significant open space in the work to express her own skill and creativity. This tradition meant Ho gave her "enough material at each of her entrances, but then left it blanker and blanker, until it's nothing but her improvising . . . and then I notate how I want her to end it."
We suggest, that means he must have a great deal of trust in the people who are playing. Vincent responds emphatically, "Absolutely!" And, having heard Wu Man's online performance with the TSO at Vincent Ho's premiere last year, it's obvious why he does.
Posted by Hannah Rutherford