My childhood friend, Tracey, saw Tim Buckley's picture as his CD lay on my dining room table, and she asked if he was single. Sorry, Trace, there's a girlfriend who's waiting for him to finish the interview and join her for dinner. Besides, he's got a beard now, and I think you said that a 5 o'clock shadow was the most you could stand on a guy.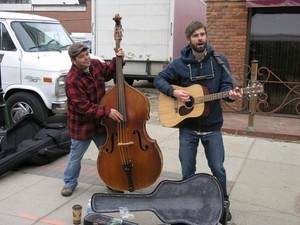 That's not all that's changed since I first spoke to Tim about two years ago. Tim and a few friends were keeping things lively in the now-defunct A Bar Named Sue, swinging from originals to Neil Young, Sheryl Crow, Hank Williams, Crank, and back again. The bulk of his own performance was solo on acoustic guitar, but now he's got a permanent bandmate, bassist Derek Pulliam, and some happy regulars. Charlie Hase or Tim Leacock fill out the trio with a wide range of additional instruments, like mandolin, pedal steel guitar and other tasty toppings. This makes up today's Tim Buckley and Tim.buck.two.
Tim tells me over tea, "It's country but it's got attitude. It definitely draws on the rootsier side of things than the glossy, Nashville pop-country type sound." He's so chilled the living room is the perfect place to talk to Tim, but I'm used to seeing him next to bartenders slinging beers and shooters, so don't think he's only laid back. The Palomino, where Tim & Tim.Buck.Two are performing sets is a saloon for outlaws to meander into, but Tim tells me there's been punk bands, electronica, and a mix of other things down in the basement club. "We've done the Happy Hour gig (upstairs), but we're going to be playing in the downstairs. . . There's two other bands playing that night. I haven't heard them, but it sounds like they're in a similar vein. . . It's a fun room to play in."
Tim's self-titled first CD was released in 2008, and that was really the start of the changes to what he's doing. Because he and Derek created a band sound on the disc, which Tim re-created when he performed the music, they started working together live as a duo. Haze or Leacock join them depending on who is available, where Tim.buck.two is playing, and the size of the venue.
"I really like playing with them because they do what I hear happening to the music when I write the songs. . . Derek and I are doing a lot of two-part harmonies (and) I'm having a lot of fun with that. Playing in a band is a lot of fun."
When I note that on the CD (but not live: strange) his vocals remind me of Lyle Lovett or Corb Lund, he is enthusiastic about them both. "Lyle Lovett is great. What I like about him is he never gets pigeonholed, and goes across all different kinds of genres. Just a really classy performer, and a great voice." And he says even nicer things about Corb.
But you can ask him yourself: Tim Buckley and Tim.buck.two are playing Friday, April 23 at Denim Suburban Lounge, and the next night at The Palomino Smokehouse & Social Club.