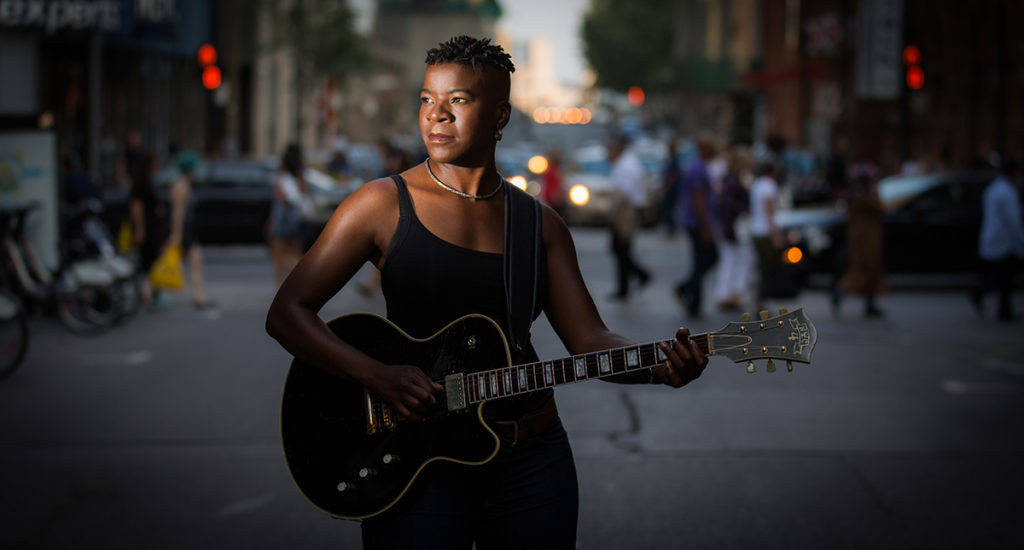 Okay, okay, okay . . . While I was interviewing Cécile Doo-Kingué after what was apparently a very satisfying opening blues set at the Winnipeg Folk Festival, one of the headliners of that set walked past and wished her well, and they spoke of perhaps connecting in Montreal: Daniel Lanois.
So, I was on the phone with someone who was having a conversation with Daniel Lanois; While I was talking to her!!
Fan-Boy!!! Moment!!!
Ahem. Cécile mentions that the Gibson acoustic guitar she's touring with is named for her mom, Coco, and here's hoping she treats her mom as well as the guitar, because Cécile's some kind of string-master, that's for sure. Not only does her 4th recording have her band scampering along after her rhythmic and melodic leads, but the live cuts scattered around her website and Facebook page sound like joy.
"That was her nickname: everybody will be hearing that (guitar on this tour).. . . It has a beautiful sound: just the right balance."
MUSICAlive! mentions the 2010 Facebook video "Is Anybody Listening".
"That was probably the first tune that I wrote after (my 1st CD), so it's been in the live show for awhile, but it didn't make it onto record until Monologues (2015, which is a solo album), and the band version is on Dialogues (2016, with Cécile and her band)."
As her current "power trio" (with drummer Maude Bastien and bassist Pierre Vesmarais) will return to Mikey's on 12th on July 20th, we ask if Cécile's played there before?
"The first western tour that I did, I played Mikey's and had a great time.. . . It was a great time, great vibe, great welcome, great group, so for this run I wanted to play Calgary, so I asked him if they had any openings."
We comment on the fact that "Female blues guitarists don't do what you do, whether it's Jimi Hendrix or a shitload of other stuff: comments?"
(mutual laughter)
"I love Jimi, and it's a great tune (Manic Depression). Nobody can touch Jimi.. . . It's a tribute to a guitarist I love, but this is my way of being moved by him: my take to it. As opposed to me trying to imitate, because I don't want to hear ME do Jimi; I want to hear Jimi do Jimi."
"Oddly enough, it's one of those (where) we're just having fun in the studio, tape is rolling, and we just go for it. That's why you hear the screams and laughter at the end of the session: it was one take, going for gold. The groove is inspired by all the old R&B stuff."
And then, Lanois walks past . . .
"Such an inspiring artist, and performer. We kicked off Mainstage at Winnipeg Folk Festival, so we opened for him and for Feist and it was just beautiful.. . . It was like being on Cloud Nine.
"Just a beautiful weekend: wonderful performers, wonderful welcome, wonderfully organized. Just a beautiful experience from A to Z."
We share some love about the Calgary folk Music Festival , which Cecile has played at in 2015 and 2016: workshops, performances, multiple stages, etc.
"That's one thing I've noticed so far from the folk festivals that I've been invited to: the sense of community. And they really are set up so that we can be (able to) commune with each other. Through music, but it's not just about music. It's about a human experience and a human exchange, like bringing kids into this as well. A lot of times when we perform live, we play clubs and places where you have to be 18 or 19 to attend. So it's beautiful to be surrounded by the innocent: to have children being exposed to music; being exposed to people who share a space and are there to appreciate each other and get to know each other and have a good time together.
"I think that's priceless."
Cécile and MUSICAlive! discuss her song, "Blood-Stained Vodka", and it's inspiration by Vladimir Putin's anti-gay propaganda laws preceding the Russian Olympics: the tyranny of the violence it stimulated, and the hypocrisy of the other governments who looked the other way in the the interest of profits. Consequently, inspired by Cécile's conversation, MUSICAlive! has adopted the vodka-cran shot as it's official "F-you" to Russian tyranny and North American hypocrisy.
Less politically, we also talk about the presence of some astounding rhythmic work and flourishes, in the same way that Stevie Rae Vaughan and Jeff Healey were so successful: not just histrionic leads over and over again.
Well, I LOVE rhythm: to me it starts with the rhythm, and lead is just an extension of that.. . . Don't get me wrong, I love virtuosity and what-not, but that's not what moves me. I like players that say something and who play the music, not just the ego. I try to stay as ego-free as possible in my playing, and do what I think is right for the tunes. And when it's time to show-off, I'll show-off a little bit, but it's not about that to me."
Check out her pages, or her shows, and you'll see what we mean.